Dear Brother GEORGIAN,
It gives me immense pleasure to extend a hearty invite to you and your family for a "FAMILY PICNIC" being organised by GEORGIANS ASSOCIATION DELHI (GAD) on Sunday, 21st February, 2016 in the scenic environs of the Aravali Hills. Venue courtesy Georgian Wg. Cdr. JS Badhwar (Retd.) (831/Ajmer).
Pictures of the venue and Route Map are attached. PLEASE READ DETAILED INSTRUCTIONS IN THE NOTICE BELOW.
A line/phone call in confirmation from you will go a long way in helping us to work out the logistics and to keep the costs to the bare minimum.
CONTACT PERSONS – RAMBIR SANGWAN – 98 9191 5454, COL YASHPAL YADAV – 9654939249 AND RAJENDER YADAV- 9971550490.
Thanks & Regards
Rambir Singh Sangwan (Advocate)
General Secretary
Georgians Association Delhi (Regd.)
M +91-98 9191 5454
NOTICE
[content_block id=762 slug=ads1]
COME ONE, COME ALL THE SCENIC ENVIRONS OF THE ARAVALLIS BECKON YOU TO A SUN AND FUN FILLED DAY OF LEISURE AND ADVENTURE WITH YOUR FAMILIES
DATE: 21st February 2016
TIME: 11:00 AM TO 4:00 PM
VENUE: Farm House D-45, Aravalli Hills, OFF Gurgaon -Sohna Road (ROUTE MAP ATTACHED)
ROUTE: FROM DHAULA KUAN TAKE EXIT 10 ON NH 8 FOR RAJIV CHOWK, GURGAON,
MEETING POINT: RAJIV CHOWK. ALL ARE REQUESTED TO REACH RAJIV CHOWK BY 1015 HOURS WHERE YOU WILL MEET MR RAMBIR SANGWAN. FROM HERE YOU WILL BE GUIDED TO THE VENUE. DEPARTURE TIME FROM MEETING POINT WILL BE 1030 HOURS SHARP. THOSE REACHING LATER MAY PLEASE MAKE IT ON THEIR OWN USING THE ROUTE MAP.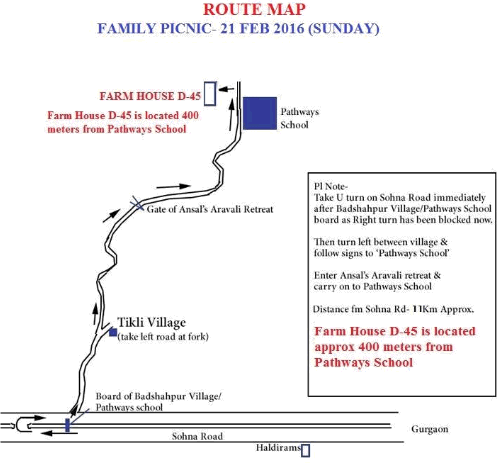 IF IN DOUBT PLEASE GET IN TOUCH WITH RAMBIR 9891915454 OR , COL YASHPAL YADAV – 9654939249 or RAJENDER YADAV- 9971550490.
CONTRIBUTION:
A MEAGRE Rs 500/- Per Couple (Children below 10 years are requested to share lunch with parents please.)
Stag including guest – Rs 300/- Per Person
Child above 10 years of age -Rs 150/- Per Child
ACTIVITIES:
Bumper Tambola – Snowball Rs 5000/- in 45 counts plus other attractive prizes.
Two Houses – 1200-1300 HOURS
Musical chair – 1300-1345 HOURS
Tug of war – 1345-1400 HOURS
Painting competition for children. 1300-1400 HOURS.
(Prizes will be awarded to all winners in the above mentioned activities.)
Lunch will be served from 1400 hours onwards.
Join in the fun and make this picnic a grand success. Look forward to welcoming you.
[content_block id=765 slug=ads2]