Born in, Brought up in, Studied in, lived in, worked in, married in, fought in, loved in, the School. Thorough bred Ajmer Georgian. S.K. Lal Sir.
Shri Swapan Kumar Lal
born on
17th may 1955
. Being son of Late Shri H.B. Lal Sir, he did his schooling from this very institute
Ajmer Military School
, Ajmer (
Rajasthan
), (94 / PJ / 1964-71), after completing B.Sc. (Hons) joined the school as Asst Teacher on 14 July 1978. Remained active member of the Editorial board of School Magazine, quarterly bulletin 'Ajaey' and became an anchor for the Alumni. He also did MA and B. Ed and based on his hard work he received his promotion and posting orders many a times, but for personal reasons did not accept the offers. He remained a very active ANO Associate NCC Officer for nearly 16 years and was adjudged best in drill competition. He remained in charge of music and dramatics, and in sports basketball and swimming.
Setting a record of all sorts, he did a noble task of imparting education and served the Alma Mater for four decades and retired in May 2015. He feels proud to be deeply associated with our institution. Best thing about Mr. S.K. Lal is his calm and composed nature during high pressure situations and was approachable any time of the day. If he can be described in three words: it would be Hard work, Perseverance and Die-Hard spirit, the qualities that have enabled his growth. S.K. Lal sir was popular among students, staff because of his temperate and nice manners.
Ladies and gentlemen today on 30 Jan 2021 we lost this noble man due to major heart attack.
It is really sad and difficult to believe his untimely demise.
May God give his family and Georgians strength to bear the loss.
OM Shanti.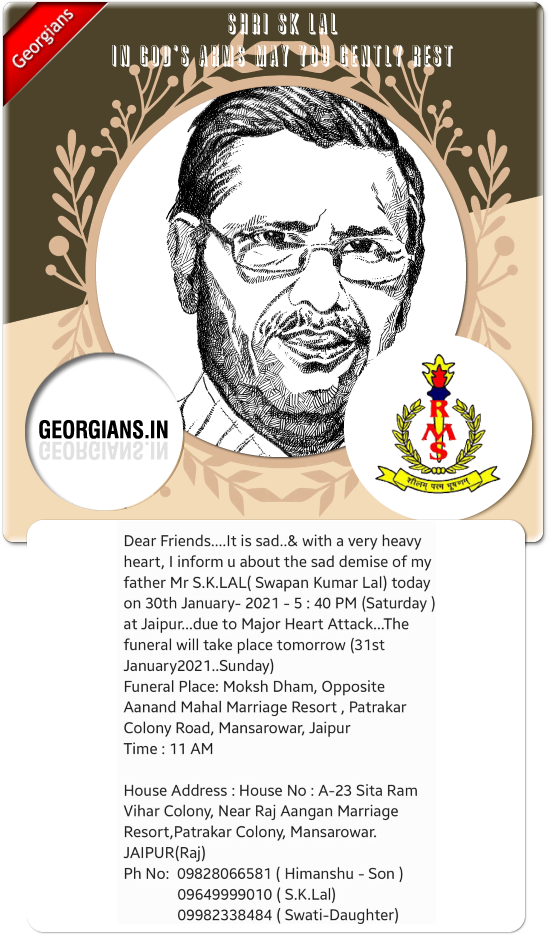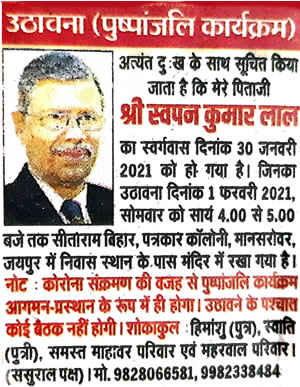 S.K. Lal Sir Facebook profile: https://www.facebook.com/sk.lal.77/